Congratulating russian engineers with their professional holiday
28.09.2014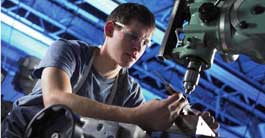 Our work is not easy. The equipment park is backward in our country, production means are worn out, technological underdevelopment is obvious. Will we manage to climb out from the global resource pit?
I wonder if we can not only return the achievements of the USSR in the armament industry, space, but also obtain the leading positions in the areas where we have never been ahead: electronics, mechanical engineering and automotive industry – the list is too vast. I understand it is probably unreal. However, every rule has its exception.
I think that only the "complex" growth is possible. The growth in the cultural level of the country, the general literacy, the prestige of blue-collar jobs and the engineering staff, the health of the population via the growth of the athletic culture, patriotism of Russians and the unity of nations living on the territory of our country. I am also sure that it is impossible to achieve in our world by competing with other countries. The growth is possible only if we take into account the interests of other states and cooperate with them.
In general, it's a long discussion, so I just wish everybody health, strong spirit and professionalism.
Happy Holiday, Colleagues!
Best regards, Director of BTOMO, LLC, Sergey Litkovets.